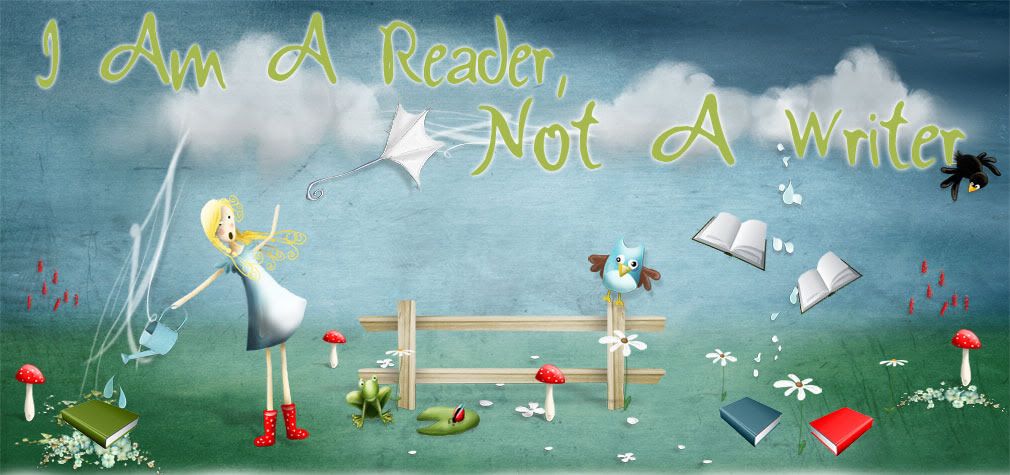 Iamareadernotawriter.blogspot.com was kind enough to have me on her blog recently for an author interview and e-book giveaway. For those who've never been to the site, it's a cornucopia of all things book-related. This blogger asks some really interesting questions, so the interview was super-fun. The following is an excerpt (click here for the full interview, and scroll down for giveaway info).
My author interview with "I Am a Reader"
If you were stranded on a desert island, what 3 things would you want with you?
Three rescue boats—one to get me home, and the other two as backups!
What is one book everyone should read?
The one they want to the most. A "must read" book will always be different for every person.
If you were a superhero, what would your name be?
The Procrastinator! Able to leap over deadlines (without meeting them) in a single bound! Okay, so I've never really missed a deadline. But my powers of procrastination are pretty amazing, if I do say so myself.
If you could have any superpower, what would you choose?
Reading people's minds. I believe it was Anne Rice who said "If you can read the minds of men, you can have anything you want." Heh-heh.
What is your favorite flavor of ice cream?
It is the combined flavor of every type of ice cream in the world. It has not been invented yet.
Pet peeves?
People who let pet peeves get to them.
Please tell us, in one sentence only, why we should read your book.
Because it's a fun and exciting mix up of periods, themes, characters, and adventures that they've never seen before!
What's one piece of advice you would give aspiring authors?
The most difficult there is to follow: "Never, never, never, never give up." –Winston Churchill
If you could be one of the Greek gods, which would it be and why?
Athena. Most people know her as the goddess of war and wisdom, but she's also the goddess of arts and crafts—especially weaving. I liken weaving to storytelling, because you're spinning a tale and hoping to entrance others with it.
Athena is also associated with olives, and I just love olives!
How did you know you should become an author?
When I realized I loved writing so much I kept putting off having lunch . . . so I could write more. When you love something more than food, I'm fairly certain you should make a career out of it!
Who are your favorite authors of all time?
Hmmm . . . there are too many to list, but off the top of my head I can think of Lemony Snicket, Michael Ende, Philip Pullman, and Diana Wynne Jones.
Can you see yourself in any of your characters?
Definitely. Each one contains part of my personality. Stanley is my shy, quiet side. Sophie is how I feel when I'm irritated. And the befuddled psychic Foreshadow is the part of me that spends two hours searching for a sweater . . . that I'm wearing.
If you were a super hero, what would your kryptonite be?
Reality. And it's already my kryptonite . . . sigh.
You have won one million dollars. What is the first thing that you would buy?
A cookie, because I am hungry.
If someone wrote a book about your life, what would the title be?
Still Waters!
Finish the sentence–one book I wish I had written is . . .
The one I'm working on right now. Because then . . . it would be done! And I could go have a cookie.
What is your favorite way to spend a rainy day?
Indoors
The e-book giveaway
By entering I Am a Reader's e-book giveaway, ten lucky readers will get a Smashwords coupon for a FREE copy of The Adventures of Stanley Delacourt. These coupons are good for formats like mobi (used with Kindle devices), e-pub (used with Apple I-Pad , Nook, Sony Reader, and Kobo), PDF's, and more. You don't even need an e-reader to use the coupons. There are plenty of free e-reader apps to download, including ones that let you enjoy books right on your computer.
The giveaway ends on October 23 (I know, I know–I posted this late
) So head on over to Iamareadernotawriter.blogspot.com and find out how to qualify for a FREE book! (Note: when you get there, scroll down past the interview and Stanley blurb for giveaway details).
Thanks to "I Am a Reader" for hosting, and good luck to all who enter!
(Top image by Iamareadernotawriter.blogspot.com)